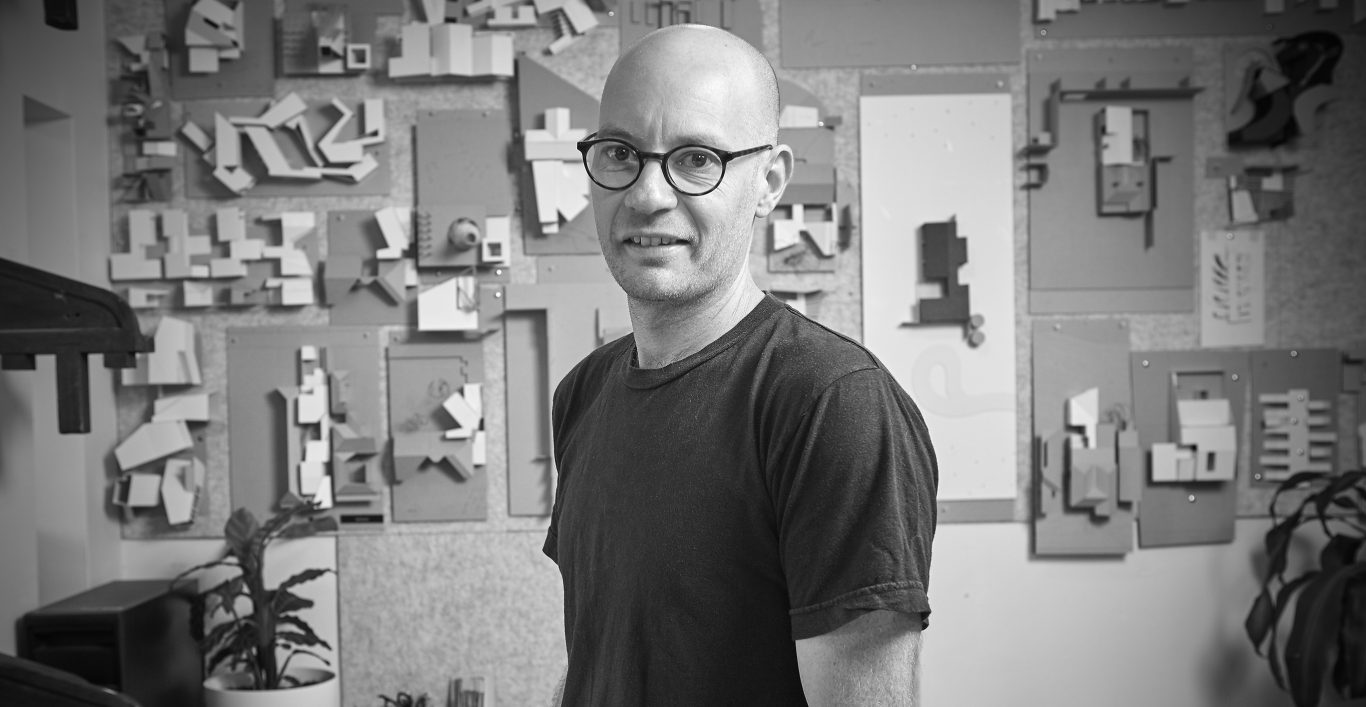 Interviews
Pushing the boundaries of small practice, Q+A with Anthony Clarke
There is sometimes a hidden perception that if an architect wishes to make a meaningful impact on our built environment, then they should work in a large practice. After all, large practices have more resources at hand and work on the largest of city changing projects. However what this oversimplification fails to account for is the growing number of small practices that are building community coalitions, leveraging new technologies and undertaking research to push the boundaries of architecture. Firmly within this category of small scale / large impact practices is BLOXAS which is led by Anthony Clarke. Recently BLOXAS launched a crowd funding campaign to support an ambitious research project exploring the relationship between dementia and the built environment.
Michael Smith – . How did this project come about and what are you hoping to achieve?
Anthony Clarke – I've been teaching at university for five or six years now, and a lot of that teaching has been focused around the idea of place-less-ness, or for people who are going through some kind of life transition. Out of that, last year I was asked to run a design studio on dementia for RMIT. This was a fantastic opportunity, and was run concurrently through industrial design, interiors, fashion, landscape, and architecture.
What I realised quite quickly at the end of that studio, was that students had the ability to understand the topic's overview, and physical scale, but they understandably lacked comprehension to the complexities of a project and brief of that magnitude. How can students gauge what a successful urban scale project looks like when delving into a topic like dementia for 12 short weeks? What students only start to understand when they begin meeting people with dementia is the level of intrinsic complexity. But actually, when it comes to designing or building something, they don't understand whether what they're doing is relevant, or if it even has the ability to make any real change or impact.
Following that studio, I was sent to Germany (again through RMIT) to attend a dementia conference, 'DementiaLAB'. This was an amazing opportunity to converse with people from all around the world who are doing incredible projects looking at dementia. It was very evident that Australia was quite far behind, at least based on what we could see. One thing that was really interesting was that there is a lot of work going on at the industrial level, small groups, 1-on-1 and that kind of scale. This most certainly started me thinking about how to bridge the gap between project scales. How do you start to bring larger scale ideas back to a more personalised approach? I thought that was a very interesting challenge.
So, when I came back from Germany, I returned with a strong interest and drive to make something happen. Through BLOXAS we are having the opportunity to look at projects dealing with sleep disorders, and autism, and other sorts of specific needs. I thought it would be great if we could set up a project whereby we could actually take written principles and start to work out how we can build projects that might deliver these sorts of principles. And knowing that we can't deliver projects of a massive scale, we should look at doing more installation-type projects. Small projects, with a much larger agenda.
I flew up and had lunch with one of the main figures within dementia in Australia, Professor Richard Fleming, from the University of Wollongong and Dementia Training Australia. I talked to Richard about my interests in this issue as an architect and my students struggle to grapple with the complexities of designing for dementia at an urban scale.
We didn't initially know how we were going to do it. But we then developed a strategy to do a series of projects over the next couple of years, based on sensory issues only. The first project is going to be based on sound, then we'll do light, then we'll do smell, then we'll do tactility. We will break the complexities right down into thinking 'what does sound actually mean for someone with dementia'? What does light mean for someone with dementia? We plan to try and get enough money to build these installations so that you people can physically experience something, as opposed to reading written principles or following a virtual reality tutorial for example.
"We're not just saying, 'Fix it', we think that we need to ask new questions and start trying to shake it up and approach it all from a completely different direction."
With Richard Fleming on board, I then spoke to Alzheimer's Australia. It took quite a while before Alzheimer's began to trust us on this, but eventually they believed we were completely committed to making this project a reality. Following this I approached ARUP, I pretty much said "We don't really know anything about acoustic design, especially at this level, but we are working on this pro-bono project, and we need to get someone on board who can really work with us on the acoustic and principles of sound side of things." I didn't really think anything would happen to be honest, but within a few hours one of the principles called and said we're in. So after a few minutes of shock we set up a meeting, and have been meeting weekly ever since. Swinburne University are also on board with the project, as well as a number of other organisations and individuals. The team is amazing!
MS – What a fantastic response from Arup.
AC – Absolutely! The project now has some serious momentum. We have a series of individuals and organisations who are absolutely committed to this project's outcome.
As for our architecture practice, it builds on the research we are already doing in some way. We have been looking closely at sensory-based projects, and how people with a heightened sense of self understand the built environment. The interest for us is taking it out of the residential realm and putting it into a different series of testing opportunities with the hope that we can be involved in bigger projects down the track. I mean the state of health care facilities and dementia is still pretty bad. Actually, to be honest it's really bad. We're not just saying, "Fix it," we think that we need to ask new questions and start trying to shake it up and approach it all from a completely different direction.
MS – So you got all of these different stakeholders together all with the idea of working on this project. And then you decided to pursue a crowdfunding campaign. How did that come to be? And what will the funds from the crowdfunding campaign end up being used for?
AC – I had never actually thought we would even consider a crowdfunding campaign, to be honest. I had met Prof. Richard Fleming (as I mentioned earlier) who was thankfully in a position to financially support the project immediately, to a certain extent. This was obviously a fantastic start. At this point I was naively confident that continuing to raise money for the project would be relatively easy! Ha, this has not been the case. The reality is, I've spent more than 3 months having a lot of ongoing conversations with a lot of other organisations like Bupa, Australian Unity, Housing Choices Australia and a long list of government bodies, just to list a very small few. Primarily we have approached individuals and organisations with a social conscience and some level of community involvement initiative. Most people have been incredibly positive, however trying to get any money is extremely difficult. And trying to make a project like this happen within a relatively short time frame is really, really difficult.
So somebody said, "You should think about crowdfunding," which I've never done, or even had anything to do with. I went to a 'Pozible' workshop and it sounded great. I suppose it's a risk you take, you never know how much support you're actually going to get. But we knew it wasn't a project that was ever solely about us. We are simply the facilitators. We've worked really hard to get a group of people that are truly committed. We know we now have the skill set to deliver the project, however we need additional money for the project to reach its full potential. The more money we can collect through the campaign, the fewer limitations we need to place on the project's outcome. We have set the crowdfunding campaign at $12,000, however we really need closer to $15,000, or even more if possible.
We've tried to find a nice balance between technology and non-technology for the installation, however in order for it to work, we need a certain amount of technology, which costs a certain amount of money. None of the money whatsoever goes to us, we've never been paid anything, nor plan to be, especially for this first project. The money we are seeking is purely what we need to build and deliver the project. The first amount of money that we got from Dementia Training Australia is going on prototyping, to get everything ready. And then, as soon as the 'Pozible' money comes through, that will be used to essentially build the final outcome(s). Time is ticking so quickly. I think by the time this interview is released we will be down to around 7 weeks! It's quite a stressful process, however incredibly rewarding.
What we found is that we've been absolutely amazed by the support that we've got from places that we didn't ever think about. Past clients that we haven't spoken to in years have chipped in $1,000. People we don't even know $1,500. Current clients have also been amazing. We have also had support from lots of small practices. That's probably been the most surprising actually, a lot of small practices have chipped in $100 each, I find that amazingly humbling. And yet the bigger practices haven't. I don't know why that is, or whether it will happen at some stage, but the support from our small practice colleagues, who are working hard on their own projects, the support from them has been nothing short of incredible.
MS – Do you think that this experiment shows the value that small practice can bring to the wider community?
AC – Yes absolutely. For us there's a lot of practices out there doing incredibly interesting work, and like everyone we're really keen to try things and test things that make things happen, especially through a social and community context. I suppose, because we're a relatively small practice, we have the ability to do that without getting bogged down in big projects. We're much more interested in doing a diverse range of projects that allows us this flexibility. It's also in the interest of larger organisations to collaborate with smaller practices like ours. It's a win win if these projects can start to scratch the surface, and have far reaching outcomes.
MS – This dementia project combined with the sleep apnoea project (the award-winning Garden Pavilion) seem to be signalling a new direction for your practice away from the traditional alterations and additions and small residential projects. Is this a strategic shift towards specialising in, for want of a better term, 'people focused' projects?
AC – It's very deliberate. Not necessarily in a business sense, but deliberate in a personal sense. The first project that BLOXAS ever did was a renovation project in Brunswick, the Profile House for a family with an autistic son. A series of projects subsequently afterward were not as people-focused until we met the clients of the Garden Pavilion. I can't even begin to explain how amazing, how open, and how vulnerable the Garden Pavilion clients have been. They have shown me the true meaning of trust. Things are most certainly heading in a very exciting direction, albeit the change is a little slower than planned.
What I have realised is that my interest is in research. I'm more interested in trying to better understand the human condition, or different human conditions, and trying to learn about neurosis, personality types for example. I think for BLOXAS, the projects we're doing now are definitely aiming towards a specific client-type, not a project-type.
I don't really know how to put my finger on it as yet, but we are definitely heading in a direction that is a lot more rewarding, and seems a lot more of a personal interest. I don't know how else to describe it at this stage. Maybe after this dementia project is complete things will be clearer, and we can chat again!
We're doing another residential project at the moment for a family with a son on the autistic spectrum (sensory seeking disorder). These more focused projects allow us to think purely about designing for fundamental change in that individual, through the way they use built form, through their rituals, through what they need to feed their certain condition be it materials etc etc, and how they truly understand the world.
MS – Thank you very much for your time and best of luck with the crowdfunding campaign
Please take a moment to look at the Pozible campaign video and if you can, donate to this important research
Architecture is for everyone
Michael Smith
Michael is an architect and co-founder of Atelier Red + Black, an emerging architecture practice in Fitzroy, Victoria. Michael has a Bachelor of Architecture and Bachelor of Construction Management from Deakin University. He was a founding member of the Australian Institute of Architects National Committee for Gender Equity (NCGE)
Feel free to contact us with questions or feedback:
More Posts
×
In response to the first research findings from the Rate My Building project, journalist Nathan Johnson from Architecture &...