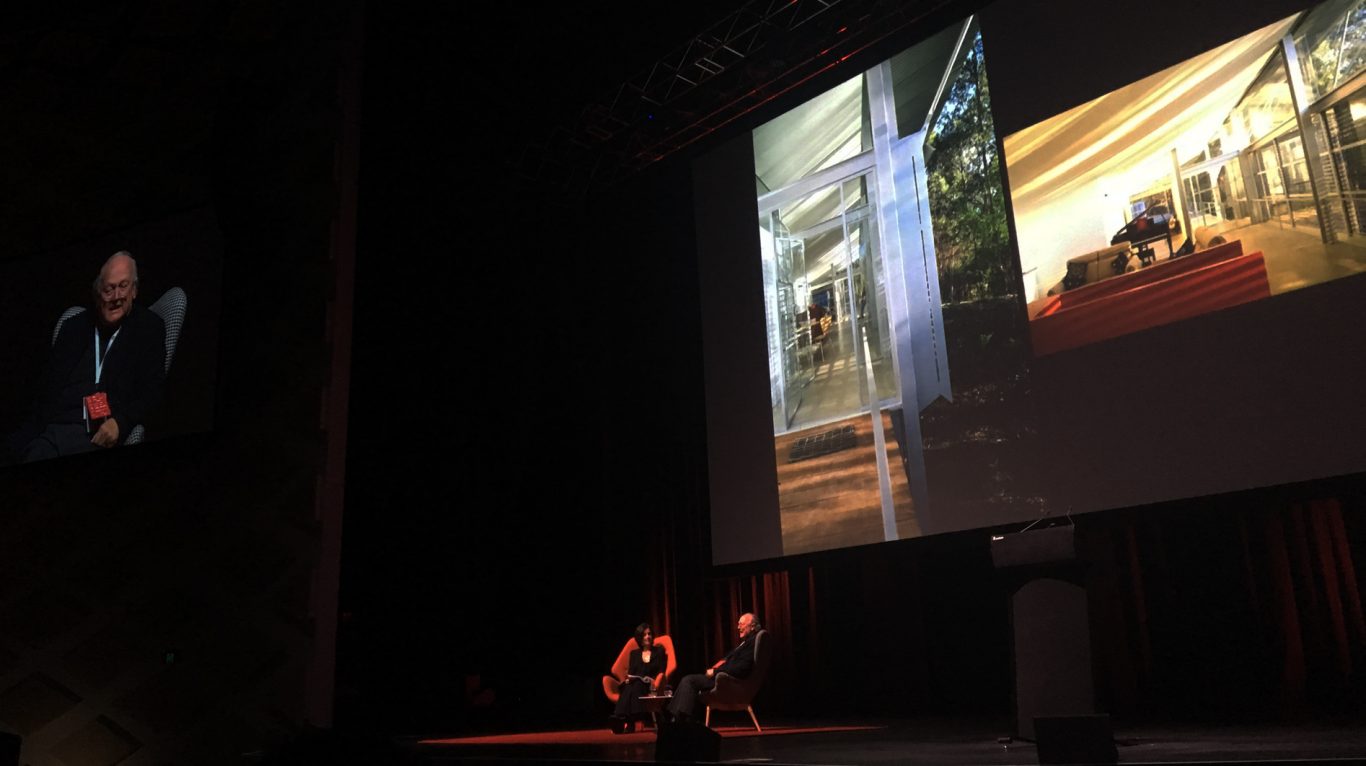 Events
2017 National Architecture Conference Day 2
Welcome to the highlights of the second day of the Australian Institute of Architects Annual Conference. If you missed the highlights from the fringe events on day 1 you can take a look back here.
The theme of this years conference is 'PRAXIS: Process. Propositions. Production'. But what is Praxis anyway? There are a few variants out there but here s the conference definition
Praxis: the process by which a theory, lesson, or skill is enacted.
Kicking off the day's proceedings was a warm welcome to country by Gadigal Elder, Uncle Chicka Madden. This was followed by Institute President Ken Maher and then AIA CEO Jennifer Cunich. Cunich spoke of an ambitious process of change within the institute, to re-position it as an agile, outward facing organisation, leading the way in advocating for architects and the built environment.
"Architecture is something for everyone"

Jennifer Cunich CEO AIA
First presentation for the day was from Winy Maas of Netherlands based practice MVRDV. In an energetic and engaging performance, Maas delivered a series of deep thinking ideas based around the s,m,l,xl framework from Rem Koolhaas. After each new idea or project Maas returned to the central question of the presentation, what's next? What would a world of fully open borders look like? Will our towers become more porous, reaching out to connect with light and air, but also providing shadow and landscape? What about re-purposing motorway overpasses 'the monsters of the 1950's ' and turning them into urban spaces for vegetation and pedestrian activity worthy of the 21st century. What's next?
One of the most jaw dropping projects for the entire day was the MVRDV Crystal Houses project in Amsterdam. Here a traditional brick facade was executed using glass bricks to create an extraordinary shimmering glass shopfront for Chanel fragrances. The idea itself was beautiful, the technical difficulty in executing the idea was absolutely extraordinary.
The second session of the day brought a Pecha Kucha styled session involving short presentations from three Australian architecture practices. Megan Baynes from Room 11 in Tasmania presented some of their beautifully crafted works of timber and glass. This was set against the backdrop of a newly emerged critical mass of design culture in Tasmania.
Rachel Nolan and Patrick Kennedy from the Melbourne practice Kennedy Nolan took the opportunity to talk about memory and architecture. Specifically what makes memory and how to make architecture memorable.
'Memory is at the centre of what adults call art and what children call play'

Rachel Nolan
Rodney Eggleston from March Studio presented a single unbuilt project from the 2016 NGV Architecture Commission Competition. Entitled GAV, this project suggested recycling the steel from the previous year's NGV pavilion by John Wardle Architects to enable the pavilion to achieve more with less. The final proposal was a sculptural forest of dangling rainbow coloured threads. The strength of GAV was that it worked on so many different levels from the political and cultural through to the programmatic, environmental and even commercial viewpoints.
The second session was a case of blink and you will miss it. Short and sharp, it was an excellent session that would have benefited from a concluding panel discussion, tying these loose threads together.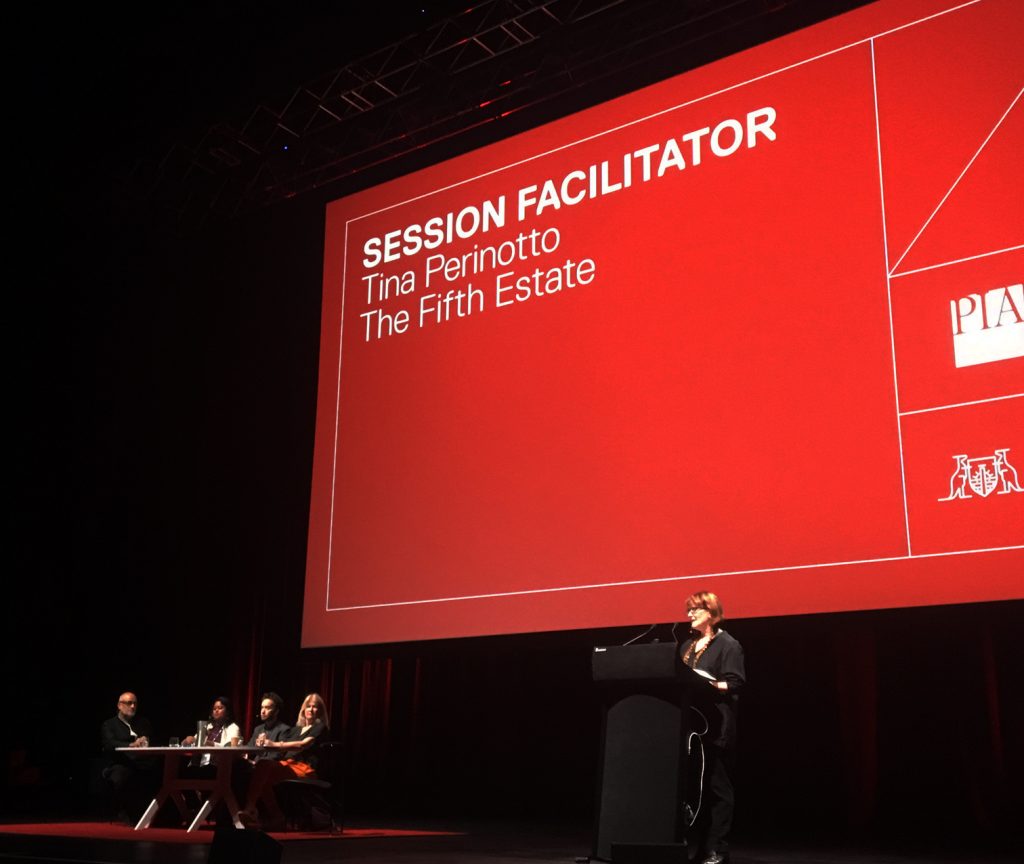 One of the more anticipated sessions of the day was the so called Super Session collaboration between the Planning Institute of Australia and the Australian Institute of Architects. The panel session entitled Shaping Cities: Towards 50 Million was chaired by Tina Perinotto from The Fifth Estate. The panel from planning, landscape and architecture backgrounds provided their insights into the problems our cities are currently facing as they continue to densify.
Rahul Mehrotra noted that the talk about smart cities and technology focused cities may come at the cost of human centered cities. Smart autonomous self driving cars, might reduce the incidence of accidents but might completely overwhelm the road capacity and dominate the ground plane if we allow market forces and technology companies to dictate the new paradigm. This was echoed by Sylvia Karres, who passionately argued that we need to rid the city of cars.
"Cities are an outcome of economic ideology. Much of that [ideology] is coming from the United States"

Prathima Manohar
Julian Bolleter noted of Australian cities that they were never designed with the intention of retrofitting them in the future for higher density. He argued that what we needed was to look at more creative ways of increasing city densities that would better protect the amenity of residents.
There is no doubt that these big city issues are a challenge for the architecture, landscape and planning professions to step up their leadership. We will need better advocacy to both governments and the public, but we will also need the big picture vision of the future that we want to see.
Following on from the super session was Eva Castro from Plasma Studio and Groundlab. Castro presented an interesting body of international work that bridged both architecture and landscape architecture. Whilst the project presented were of a high quality, the ideas behind them were more difficult to digest from the presentation. The deep level of analysis presented through diagrams were at times difficult to understand quickly.
The final session of the day was Australia's most celebrated architect, Glenn Murcutt, in conversation with Helen Lochhead. The conversation began with Murcutt explaining his influences from his unusual upbringing in London, Papua New Guinea and then Sydney. Murcutt attributed his diverse life experiences as critical to his understanding of the natural world and his success as an architect.
Pushing on to his decision to practice as a sole practitioner, Murcutt, like many architects, enjoys the agility of 'stinging like a mosquito' that comes from this mode of practice. He has collaborated when it suited him and it would appear that he does everything on his own terms. Murcutt also considers teaching to be a critical factor in keeping a sharp mind in solo practice.
"Teaching sharpens the mind of the architect, as they need to be able to articulate to the student what is good and what is not so good."

Glen Murcutt
This session, a reflection upon one of the great careers in architecture, was simply delightful.
To read more about the conference as it happens take a look at the AIA Praxis blog website here.
To continue to day 3 of Praxis click here
You can also follow the #Praxis2017 hashtag on Twitter and Instagram.
Architecture is for everyone.
Michael Smith
Michael is an architect and co-founder of Atelier Red + Black, an emerging architecture practice in Fitzroy, Victoria. Michael has a Bachelor of Architecture and Bachelor of Construction Management from Deakin University. He was a founding member of the Australian Institute of Architects National Committee for Gender Equity (NCGE)
Feel free to contact us with questions or feedback:
More Posts
×
Over the weekend Melbourne's biggest celebration of art, music and architecture delighted a massive half a million people. White...